Today, KingconNW's leadership is a collection of individuals from across a wide spectrum of professions, all with one goal in mind – providing the best family entertainment possible.
Brian Morris
CEO and Lead Development Team Member: Brian has been involved with the Comicon community for over 12 years and brings a wealth of knowledge in the creative and cosplay side to the event. He is also heavily involved within the fields of science and technology as a result of his teaching in one of the leading national STEM schools.
Ben Andrews
VP of Outreach and Networking:
Ben is a Seattle-based Actor, Director, Producer, and local film advocate, whose projects have been in over 200 festivals around the world and have won dozens of awards. As a member of the Washington State Film Leadership council and the Pacific Northwest eSports Council, he is a tireless advocate for showcasing creative talent in Washington State.

Steven C. Smith
NASA Education Specialist: Steven is working with NASA's Educator Professional Development Collaborative (EPDC) at the Johnson Space Center in Houston, Texas. He currently holds an MBA in Infrastructure Planning and Management from UW, and a Bachelor's Degree in Neuropsychology from Georgia State. He has since begun work on his Doctorate Degree. Prior to his work with NASA, Steven worked in K-12 education for nearly 20 years, most recently as Life Sciences Chair at a minority serving inner city school in Georgia. His current work supports Minority Serving Institutions (MSIs); inspiring the next generation of NASA scientists from among historically disenfranchised groups.

Steven helps to develop, package, and deliver STEM curriculum that translates the work and discoveries of NASA for use in the classroom; making content more accessible for all students as individuals.

He works with educators all over the country, helping them create culturally responsive lessons to engage students that have previously felt left out of the amazing work that NASA is doing.

What excites me about King Con:
"
I appreciate that King Con has so many opportunities for young people to learn about
the community! They have a strong focus on science – which you can't find at other PNW conventions! From their Science
Keynote panels to the robotics competition: young people from all over King County have something to spark their imagination!
"
-
Steven C. Smith
Richard Boyd
Educational Technology Pioneer / CEO: Over the last 25 years, Richard has been a part of some of the most innovative game technology companies in the industry. He has served as a game tech consultant in energy, healthcare, education and motion picture industries.

Richard served for a decade on the executive management team of Virtus Corporation where he helped create several pioneering computer gaming companies including Red Storm Entertainment with author Tom Clancy, iRock Entertainment with Ozzy Ozbourne, and Timeline Computer Entertainment with author Michael Crichton.

Richard has also spearheaded the effort to us 3D visualization tech to create virtual environments fro films such has Warner's Bros Fearless, and Brian de Palma's, Mission: Impossible. Currently, he is the co-founder and CEO of Tanjo Inc. and co-founder of Ultisim Inc., which specialize in machine and simulation learning for children and adults. He was awarded innovator of the Year in 2018.

What excites me about King Con:
"
I have enjoyed this team's previous conventions and encourage
everyone to attend King Con. Being in the presence of a large gathering of people who are
in constant Flow State is an energizing and uplifting experience you will never forget.
"
-
Richard Boyd
Michelle Zimmerman
Ph.D: Michelle is the author of Teaching AI: Exploring New Frontiers for Learning is a Microsoft Innovative Educational Expert, and four-time Microsoft MVP for global impact. She is in leadership of Microsoft's first K-12 school in the US to be selected for the Flagship Schools program. She briefed Satya Nadella and her executive team on research in practice in education and on Sway.

With 18 years in the classroom (PreK–10), 12 years implementing research into practice, designing Renton Prep, and serving on the UW Professional Education Advisory Board, she experiences education through multiple lenses.

Her students have gained international recognition through global school visits, hosting Ministries of Education, and Delegates at Renton Prep from 15 countries. She and her students have presented since 2007: from AERA to Scientific American, New York Academy of Sciences, NYU, UCLA, SXSWEdu, Serious Play Conference and a range of International Edtech conferences including ISTE, BETT, CARNET, with an international speaking presence in 5 different countries.

Her research and student voice are published in Springer's International Human-Computer Interaction Series, and press such as GeekWire, VentureBeat, and Forbes.

What excites me about King Con:
"
I love how family-friendly King Con is! They always have a
great amount of program activities and interactive exhibits for young individuals. I also love that
they have a strong emphasis on not only on entertaining kids, but also educating them.
"
-
Michelle Zimmerman

Beverly Downen

Owner of Downen Creative Studios: Beverly is a passionate master-level cosplay creator and educator and a well known as a positive female leader in the cosplay community. She is obsessed with creating multimedia content and tutorials to help cosplayers create next level costumes and props. In 2018 she founded SheProp!, and is the host and producer for the ShePropTalk podcast. She has worked with Marvel to create a highly detailed replica of the Wasp costume from "Ant-Man and the Wasp" for the "Marvel Becoming" series, and has created video tutorials for Worbla and Smooth-On.
She is a brand ambassador for several companies, and her written tutorials can be found in Cohaku magazine. While she has been a cosplay guest at several conventions across the US, her favorite part of the country is the Pacific Northwest!
What excites me about King Con:
"The PNW is home to a wealth of talented and creative minds. I am looking forward to helping to create an event that brings cosplay, science and gaming together as one incredible event!" -
Beverly Downen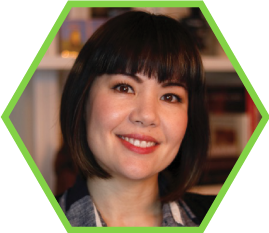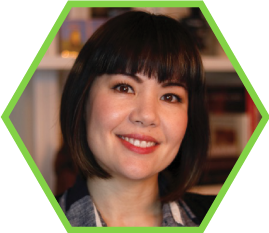 Sophy Wong
Fashion/Tech Designer & YouTuber: Sophy is a designer and maker whose projects range from period costumes to Arduino-driven wearable tech! Using tools like 3D printers, microcontrollers, and laser cutters, her work highlights the intersection of technology and design for the human body. She has been featured by Make: Magazine, Tested.com, Adafruit.com, and is a regular contributor to HackSpace Magazine. Sophy speaks on wearable tech and design at conferences including Hackaday Superconference, and Maker Faires across the country.

Sophy documents her work at SophyWong.com and on her YouTube channel. Her book, Wearable Tech Projects, a compilation of 30 tutorials and articles about DIY wearable tech, is available from Raspberry Pi Press.

What excites me about King Con:
"
For me, pop culture, making, and technology are all connected
they're what inspire me to dream and create. I'm thrilled to be a part of a convention that will celebrate these
intersections all in the same place!
" -
Sophy Wong
"Evil" Ted Smith
Master Hollywood Builder/ YouTuber: "Evil" Ted worked in the movie industry doing visual effects, prop, and model making for 28 years. He worked on films and television shows such as Hunger Games, Pirates of the Caribbean, Star Trek, Walking Dead Titanic and Batman to name a few.

Ted started building when he saw Star Wars at 14. He wanted to recreate what he saw on screen and began making a Darth Vader helmet and costume out of paper mache and cardboard. After making his first costume Ted could not stop building.

He's now known around the world for his YouTube tutorials teaching cosplayers how to make foam armor and props. He wanted to make what he'd learned available to the everyday builder.

He is a firm believer that it's passion over talent, and that anyone can learn to build. He loves cosplay and the community and loves supporting and assisting new builders in the learning process.

What excites me about King Con:
"
King Con has always been a place that's extremely
accessible to families and individuals. They have a strong cosplay community around them
and keep a wide variety of content so that people from all backgrounds feel
welcome!
" -
Ted Smith
Brad Hallock
Master Cosplay Builder/ Educator: Brad attended his first Comic Con in 2014, and was hooked! Since then, he created BH Cosplay – a platform to feature his work. He has mastered foam craft, lighting effects and molding and resin casting costume elements and weapons for these costumes including a set of Skyrim Dragonbone armor for himself and his wife and a full Destiny 2 Titan armor build to be debuted this year Since building some award-winning cosplays, he has focused his energies on encouraging and educating cosplayer from all backgrounds in a number of contests and convention panels across the United States and Canada.

What excites me about King Con:
"
Not only does King Con have all the great vendors
and booths you would expect, but it has special content that focuses on these three
main areas: gaming, science, and cosplay."
"So many conventions take cosplayers for granted; I appreciate that this con loves and
elevates the cosplay community. I'm also very excited to see all of the innovative science
content. It's a cool treat you can't get at other conventions.
" -
Brad Hallock

Marissa Fujimoto
Slager Fuj Creative Media: Marissa earned her BFA from Sanford-Brown College, specializing in digital media. She is the CEO of the production company Slager Fuj Creative Media, which offers film, video, and design, services. Her post-production work includes shows such as "Hoarders" and "Project Afterlife". Additionally, she has produced local "48-hour" films, earning her the Real Grrls Outstanding Producer Award in 2015.

In 2018, Marissa produced another Holly Short's original short film, "Jameson", directed by John Humber. This was her third short film to make it to Hollywood. Her work experience, Japanese heritage and immediate family members who were incarcerated, has guided her to a documentary opportunity that turned into a passion project.

Joined by a Japanese Hollywood production coordinator, she traveled to three of the ten Japanese internment camps where only a select few offer yearly Pilgrimages. The goal of each Pilgrimage and her passion project is to educate younger generations and preserve the stories of aging survivors who were incarcerated in WWII.

She has received the 2018 Japanese American Confinement Sites Grant from the Nation Park Service and will continue to share the stories of those who were incarcerated.

What excites me about King Con:
"
I am Super excited to see King Con focus on Gaming, Cosplay, and Science in this
years event! I also love surrounding myself with creatives.
"
-
Marissa Fujimoto
Todd Conley
Gaming Entrepreneur/Educator: Todd started in eSports as a professional gamer in the late 90's - before it was called eSports. He traveled the work at Gateway 2000's sponsored game for a 3d flying game called Descent. Todd played and coached high school, college, and professional tennis. He worked at Microsoft in Healthcare and Education, IT management for a school, and managed technology for many nonprofits.

He has an MBA in technology management from the University of Washington and has since started a software company that manages professional tennis leagues and tournaments. He has used that knowledge to form HighSchool.GG: a company that operates high school esports leagues with a focus on teaching kids 21st-century STEM and business skills by allowing students to own and operate their school's eSports and Streaming franchises.

What excites me about King Con:
"
King Con is doing a ton with eports right now! I love to see how
passionate they are about the gaming community and making them such a big element of a smaller convention.
"
-
Todd Conley
Tom Butler
Co-founder/President PBL: Tom oversees all operations of the Professional Battle League (PBL): a geolocation esports league with teams in 24 regions across North America. The PBL is focused on growing player and fan engagement with one of the biggest brands in gaming: Halo. However, the PBL is game agnostic and is expanding to offer a geolocation league structure for other titles. Tom has come from a career in organization and leadership development, and has a systems theory educational background. He has utilized this training to handle the complex task of running an esports league.

He is currently part of a collaboration to develop the esports management education efforts at the Milgard School of Business at the UW Tacoma. In his spare time, Tom leads a high school robotics club. Tom is proud to be a part of the PNW Esports Council and is working to bring more esporting events to the region.

What excites me about King Con:
"
I love that a smaller convention is hosting an esports
competition! This isn't something you get to see very often at smaller conventions. They are
making more accessible to the youth of King County.
"
-
Tom Butler